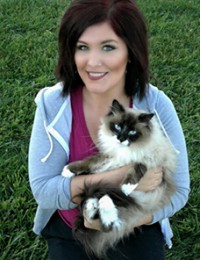 Ashley found her passion in animal medicine at a very young age nursing barn kittens and wildlife back to health. She grew up on the outskirts of Reynolds and Hamlet. Her family home always consisted of family pets including dogs, cats, hamsters, rabbits and even a sugar glider (a small marsupial pocket pet similar to the flying squirrel). Ashley's love for animals grew over the years and by middle school she had decided that she would dedicate her career to the medical care of animals.
Ashley started her formal education by completing the Veterinary Assistant Certification program at Black Hawk College where she learned the importance of vaccines and routine medical care. This sparked her interest in pursuing additional training and education in the veterinary medical field. Ashley completed the Veterinary Technician program at Eastern Iowa Community College where she was able to polish her skills with animal behavior, venipunctures and blood collection, critical care and much more. She interned at an area veterinary practice where she was able to gain skills with large animals and equine and passed her board exams to become a Licensed Veterinary Technician. She then accepted a position as a Licensed Veterinary Technician and worked there prior to joining our team. Ashley has a special interest in surgical anesthesia and analgesics where her skills are utilized to make sure any surgical procedures are safe and as painless as possible. She is fascinated with new research and looks for any opportunity to improve the care of her patients.
Ashely continues to be a resident of Mercer County and recently bought a home in Aledo. She uses her education and training to care for her four-legged companions as well. Ashley has three dogs. Meeka is a rescue she fell in love with right out of high school. They have been inseparable ever since. Apollo is a Siberian Husky/Blue Heeler mix she cared for in college. She fell for his charm and dashing good looks and never looked back. Her newest addition is Ruby, a Landseer Newfoundland, who is full of energy and loves EVERYONE…maybe a little too much at times. Ashley also has two cats. Dallas is a Ragdoll that was rescued through her internship. He had damage to his hip joints and required surgery at a young age. She assisted in the surgery and nursed him back to health. He is now a running, jumping, eating, lounging machine. She also has Lux, the petite and feisty female tuxedo kitten she found out on a farm and decided that she was much to lady-like for outdoor life. As the second oldest in the house Lux has secured her position as home supervisor, keeping the dogs in line. Ashley has a special place in her heart for cats and she enjoys sharing her home with them.
Ashley is passionate about her career as a Licensed Veterinary Technician and enjoys seeing other owner's find the joy in sharing their lives with their fur babies. Ashley enjoys walking or hiking with her dogs and cruising around Aledo with her will behaved pups in the seat.