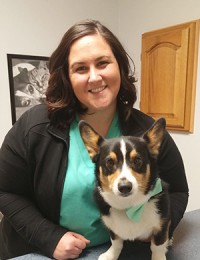 Meet Callie! She is our Veterinary Assistant here at Aledo Veterinary Clinic, she joined our team in 2017. As a lifelong resident of Mercer County, Callie has always enjoyed the rural lifestyle surrounded by agriculture and animals. Growing up Callie had many animals including many different species. Callie has always had a strong bond/relationship with her pets as well as others and couldn't picture herself working in the workforce without animals!
In 2010 Callie obtained her Veterinary Assistant Certificate through Black Hawk Community College and then continued her education further by completing the Veterinary Technology Program from Muscatine Community College earning her a degree in Associates of Applied Science – Veterinary Technology.
Callies' main duties include assisting Dr. Wicks and Ashley, our Certified Veterinary Technician. She also focuses a large portion of her day on our large animal (Bovine, Equine, Ovine, etc.) patients and appointments.
Callie is recently and happily married to her husband David. Together they provide a loving home to their dogs – Boost, a Pembroke Welsh Corgi, who is very smart, athletic and has completed obedience and agility courses. Being their first 'child', Boost is very spoiled and rules the house. Then there's Gauge, a rescue who is an Australian Shepherd/Labrador mix. He is a total 'love bug' and when it comes to personal space there is none, but he is always there to comfort you. Although he is the newest member, he was the missing piece and now completes their perfect family! When Callie is not at work, she enjoys kayaking and hiking with her little family as well as putting together art and craft projects.