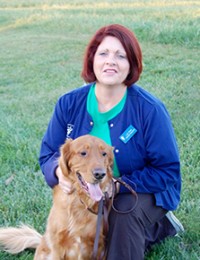 Meet Lisa! She is the senior member of the Aledo Veterinary Clinic staff and is a Customer Care Specialist at the clinic.
Lisa was born and raised on a farm in Mercer County, Illinois where her family raised cattle, pigs and sheep. Growing up she had an assortment of pets that included rabbits, dogs and cats. Her family also had horses, which were Lisa's favorite. She enjoyed riding every chance she got.
Lisa has been in the medical field her entire career, starting as a Dental Assistant. After ten years as a dental assistant Lisa moved to the hospital in the Lab and X-Ray Department before joining our team at Aledo Veterinary Clinic. Her favorite part of her job is getting to know our clients and patients and seeing how much the pets change through the years.
Lisa's main duties include assisting clients in scheduling for pets and farm animals, greeting clients and pets, checking appointments in and out, filling and dispensing medications, and preparing medical records. She does all of this while also answering phones and handling email and fax requests.
Lisa has been married to her husband Rodney for 31 years. They have two sons and two grandsons and she loves spending time with her family. The family also has an over affectionate Golden Retriever named CJ who will be more than happy to greet you should you run in to them somewhere. Lisa enjoys antiquing, crafting, flea markets, traveling and going to movies.